Adult Generations Vary in Spiritual Responses to Pandemic
American Worldview Inventory 2023: Release #04
Click the button below to get key findings from American Worldview Inventory 2023: A National Survey of Biblical and Competing Worldviews by George Barna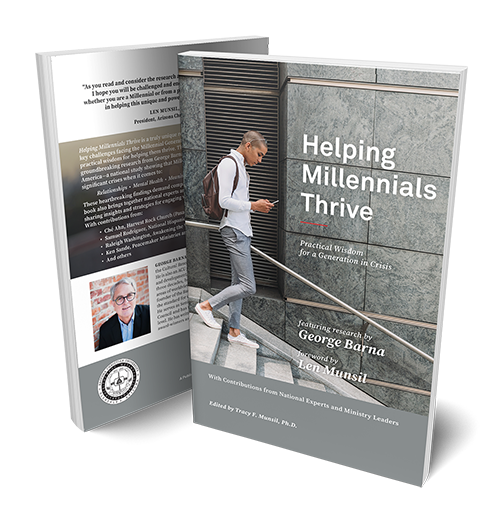 Get the latest book from Dr. George Barna:
Helping Millennials Thrive: Practical Wisdom for a Generation in Crisis
This unique resource identifies key challenges facing the Millennial Generation and offers practical wisdom from national experts and ministry leaders for helping them thrive.
Featuring groundbreaking Millennial research from Dr. George Barna.
"As you read and consider the research and the wisdom offered in this book, I hope you will be challenged and encouraged to consider your role – whether you are a Millennial or from a previous generation – in helping this unique and powerful generation to flourish." – Len Munsil, B.S., J.D. (President, Arizona Christian University)
Cultural transformation is possible
… we have a vision to restore the biblical worldview and God's truth to all areas of our culture
Our Mission: The Cultural Research Center at Arizona Christian University exists to advance the Kingdom of God by conducting cultural and biblical worldview studies that will provide research and resources to inform and mobilize strategic engagement in cultural transformation.
Vision
America seems to be in a freefall – morally, politically, culturally – our founding values and the biblical worldview seemingly fading forever. But at the Cultural Research Center at Arizona Christian University, we believe there's hope – that cultural transformation is possible.
CRC was formed in partnership with Dr. George Barna, the widely published, influential researcher of American culture and worldview, to produce credible research and analysis to show the transformational impact of the biblical worldview on American culture.
Our mission starts with educating ACU students with the biblical worldview, so they understand and live according to God's truth. We believe the next generation, transformed and equipped, can influence every area of culture: business and education, government and politics, information and news media, science and technology, arts and entertainment, churches and families.
But CRC's mission extends outside ACU, across the nation to support educators, church leaders, ministry partners and others who share this vision.
At the Cultural Research Center, we believe it can be done by those who share the call to transform culture, guided by informed research and targeted data, and supported by practical, strategic resources. That's what CRC brings to the table – research and resources for cultural transformation.
George Barna
Director of Research, Cultural Research Center at Arizona Christian University
George Barna is the Director of Research and cofounder of the Cultural Research Center at Arizona Christian University. He is also an ACU professor, focusing on worldview assessment and development, and cultural transformation. He was the founder and leader of the Barna Group, a research company that has set the standard for understanding trends in American culture. In addition, Barna serves as Senior Research Fellow at the Center for Biblical Worldview at the Family Research Council. He has taught at the undergraduate and graduate level, and has pastored two churches. Barna has written more than 50 books, including numerous award-winners and New York Times bestsellers.
Dr. Tracy Munsil
Executive Director, Cultural Research Center at Arizona Christian University
Dr. Tracy Munsil is the Executive Director of the Cultural Research Center and is also Associate Professor of Political Science at Arizona Christian University. Dr. Munsil chaired the collaborative process to develop the ACU CORE liberal arts curriculum and teaches political science and Humanities courses at ACU. She was appointed by Arizona Gov. Doug Ducey to the Commission on Appellate Court Appointments and served as Chair of the Board of Directors for Voices for the Voiceless, a next-generation prolife organization based in Phoenix. Dr. Munsil was a full-time lecturer in the Arizona State University School of Politics and Global Studies. Her doctorate was her third degree from ASU, after earning both a political science master's and a bachelor's degree in journalism. At ASU she met her husband, ACU President Len Munsil. Dr. Munsil home-educated their eight children for 14 years.
The Cultural Research Center is a part of Arizona Christian University, whose mission is to transform culture with biblical truth. This is only possible when future Christian leaders are equipped to influence the world with a clear, strong and compelling biblical worldview.
One objective of the Cultural Research Center is to track the state of American culture and the prevailing worldviews of Americans. CRC will conduct ongoing national surveys and distribute the results to media, faculty, donors and ministry partners. The information will assist in identifying and addressing cultural challenges while establishing Arizona Christian University as a leader in cultural transformation.
CRC will also measure and inform the University's CORE liberal arts curriculum. The CORE is unique among American universities and is designed to equip students with a biblical worldview, enabling them to succeed in their vocations and transform the culture in their arena of influence.
Changed lives change the world. CRC will measure the impact of ACU's graduates and provide empirical evidence that demonstrates their impact on cultural transformation. And CRC will share cutting-edge research and strategic resources with others engaged in cultural transformation.
See our latest CRC Brief: What is a Worldview? What is the Biblical Worldview?
You can become a valuable partner of the Cultural Resource Center.
Individuals who make a financial investment in the CRC will have early access to research findings and publications. In addition, investors will be invited to special VIP briefings from ACU President Len Munsil and Dr. George Barna.
Most importantly, investors will have the satisfaction of knowing they have helped establish the nation's leading research center designed to measure the impact of a biblical worldview in transforming culture.
For more information
Contact Tracy Munsil, Executive Director
(602) 489-5300
[email protected]
Cultural Research Center
Arizona Christian University
1 W. Firestorm Way
Glendale, AZ 85306