DISCOVER YOUR ACU EXPERIENCE
VIRTUAL TOUR CUSTOMIZED JUST FOR YOU
Join us online to discover your ACU Experience through an interactive virtual tour hosted by one of our Admissions team members. You will have an opportunity to tour the campus, see inside buildings and dorm rooms, hear from a professor and even hear from current ACU students all from the comfort of your own home.
Schedule Your Virtual Tour
Learn what it's like to be part of the Firestorm family!
Virtual tours will be hosted Monday-Friday at 9am, 11am, 1pm and 4pm (Arizona Time or PST).
If those times don't work for you, feel free to explore the virtual tour on your own time: click here.
If you have any questions, please contact one of our Admissions team members:
Jason Stevens (602) 320-5496
[email protected]arizonachristian.edu
Meta Kitna (520) 485-8432
[email protected]edu
Jeff Penzone (602) 377-1720
[email protected]arizonachristian.edu
Group Visits
Stay tuned for Campus Visit Days starting this September 2020. Whether you are a student, a family, an athletic team, or a handful of friends or classmates, we'd be happy to host you on campus! During your visit day you can  experience worship with ACU's student lead praise band, a campus tour, a college class and a meet and greet with ACU professors!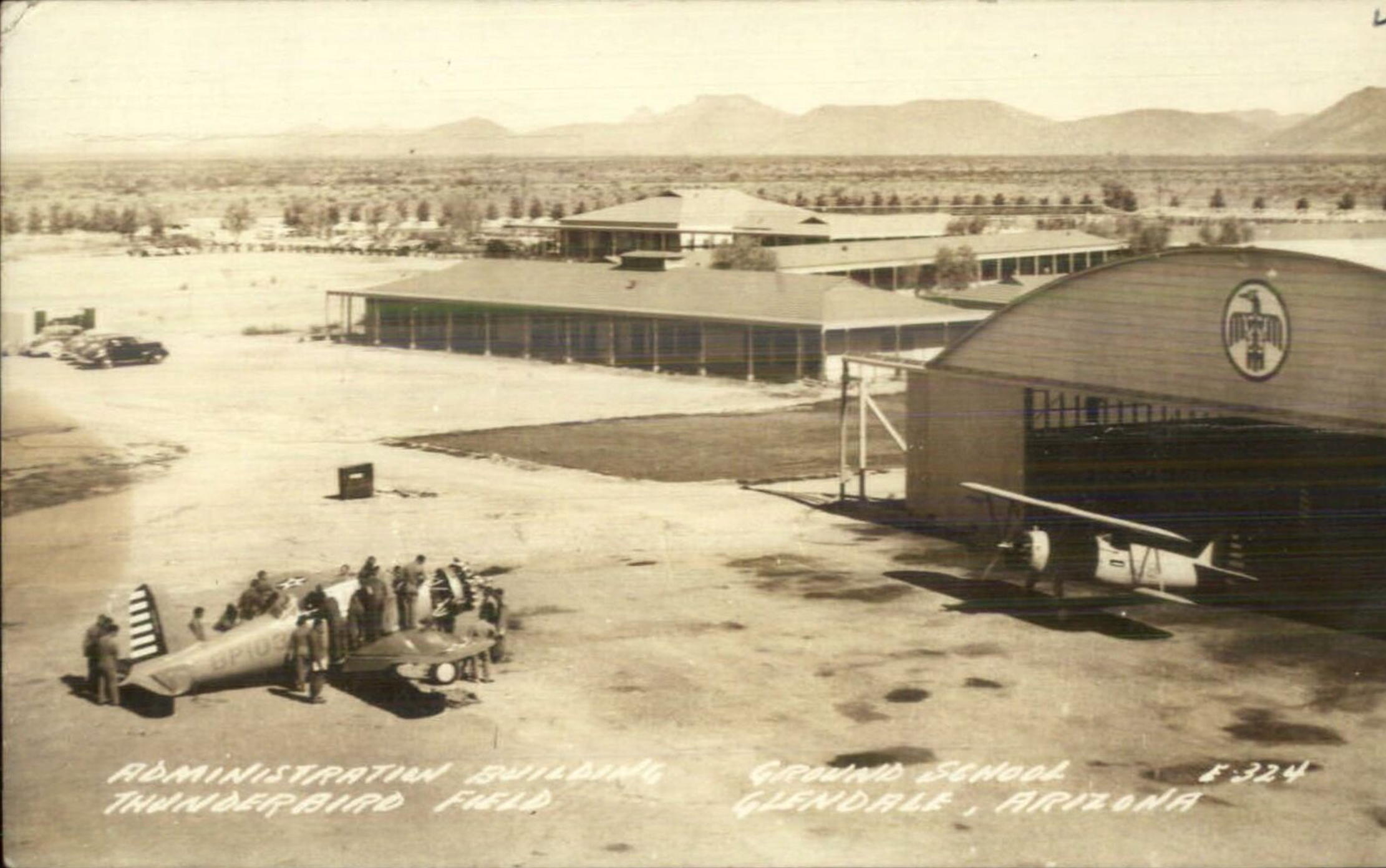 Credit: Original postcard from the early years of Thunderbird Field, Glendale Arizona
How ACU's Historic Campus Changed the World
Almost a year before Pearl Harbor, in January 1941, construction began on an airstrip 20 miles northwest of downtown Phoenix. Rising from empty desert, Thunderbird Field became a civilian primary flight school under the supervision of the United States Army Air Corps. Within three months, the skies around Glendale buzzed with training planes from dawn until dusk. By June 1945, over 8,000 cadets passed the tough training course, eventually becoming fighter and bomber pilots who served the Allie powers in WWII. Keeping the pilots flying took a dedicated support staff, including the men and women who pulled all night maintenance shifts in the hangers to keep the planes safe, and ready to fly each morning. ACU is honored to keep the memory and example of these men and women alive, and to preserve three WWII era buildings, including the Control Tower and Hanger.
Stay with us!
Whether you are in town for a few days or an extended trip, we would love for you to make yourself comfortable in our Executive Hotel and Conference Center. Rates are priced at reasonable rates as we want you to be close to the action on campus. There's a lot we have to offer such as spacious and well-appointed rooms as well as a Complimentary Grab & Go Continental Breakfast.
Office of Admissions
Arizona Christian University
1 W. Firestorm Way
Glendale, AZ 85306
  Phone:
(602) 489-5300
  Email:
[email protected]
Visit Forms
If you participate in a visit event at ACU, you may need the following forms:

Medical Release/Activity Permission Form

Voluntary Waiver Release and Assumption of Risk Agreement