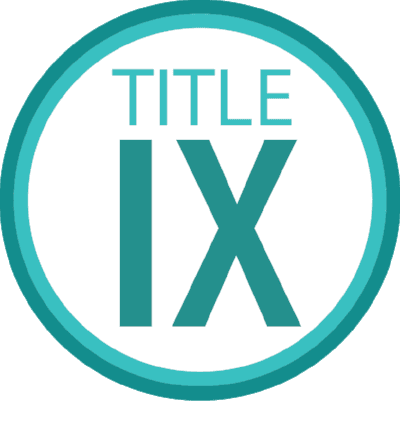 Title IX Statement
What is Title IX?
Title IX of the Education Amendments of 1972 prohibits sex discrimination in educational programs and activities. Title IX is a federal regulation stating that "no person in the United States shall, on the basis of sex, be excluded from participation in, be denied the benefits of or be subject to discrimination under any education program or activity receiving federal financial assistance."
20 U.S.C. § 1681 & 34 C.F.R. Part 106
What is sex discrimination?
Sex discrimination can take on many forms. Examples of sex discrimination include:
Unequal treatment in educational programs or employment on the basis of sex.
Sexual harassment, such as unwelcome sexual advances, stalking or harassment on social media.
Sexual violence, such as sexual assault, dating violence or domestic violence.
Who needs to comply with Title IX?
Faculty, staff and administrators
Students
Third party service providers
All members of the University community
What to expect
When a report of an alleged Title IX violation is submitted, the Title IX Coordinator will initiate the Title IX/Sexual Misconduct investigation process. All parties involved will be expected to participate in the investigation. The Title IX/Sexual Misconduct Process is separate from the criminal system. Victims of certain Title IX violations are encouraged to file a report with the Glendale Police Department or local law enforcement where the alleged incident occurred. The decision to file a report or pursue criminal action is entirely up to the victim. The Title IX/Sexual Misconduct process is designed to provide all parties with a decision upon completion of a fair and thorough investigation. For complete information on the Title IX/Sexual Misconduct Process, please consult the Student Handbook.
Sexual harassment is unwelcome conduct of a sexual nature that is sufficiently severe, persistent or pervasive and unreasonably interferes with, denies, or limits someone's ability to participate in or benefit from a program or activity. Unwelcome advances or inappropriate touching are examples of sexual harassment.
Sexual violence is defined as physical sexual acts perpetrated without consent or where a person is incapable of giving consent due to the use of drugs or alcohol. Sexual violence is defined as non-consensual sexual contact and nonconsensual sexual intercourse. Sexual assault and rape are examples of sexual violence.
Dating Violence is violence by a person who has been in a romantic or intimate relationship with the victim. Whether there was such relationship will be gauged by its length, type, and frequency of interaction.
Domestic Violence is asserted violent misdemeanor and felony offenses committed by the victim's current or former spouse, current or former cohabitant, or person similarly situated under domestic or family violence law, or anyone else protected under domestic or family violence law.
Stalking is engaging in a course of conduct directed at a specific person that would cause a reasonable person to fear for his or her safety or the safety of others; or suffer substantial emotional distress.
HOW TO MAKE A NON-CONFIDENTIAL REPORT
All members of the University community are strongly encouraged to submit a report of sex discrimination to the University's Title IX Coordinator by emailing [email protected]
ACU's Title IX Coordinator is:
Dr. Jared Black
Dean of Students Student Success Center #118
[email protected]
(602) 489-5300 x.3501
Note: All faculty, staff and student employees who have supervisory authority, who receive complaints of sex discrimination, sexual harassment, sexual violence, domestic violence, dating violence, or stalking, are obligated to report complaints to their supervisor or department head and/or the Title IX Coordinator.
HOW TO MAKE A CONFIDENTIAL REPORT
Members of the University community who wish to speak with someone in confidence about an incident of sex discrimination are encouraged to speak with members of the Counseling Services staff or the Campus Pastor. These professionals have a privilege to withhold information, to the extent consistent with the law, only where they are acting in the scope of their license or certification for these functions and/or working in their professional capacity.
Counseling Services:
[email protected]
Campus Pastor Tim Reed:
[email protected]
Office of Campus Safety
Arizona Christian University
1 W. Firestorm Way
Glendale, AZ 85306
 Phone
Emergency:
9-1-1
Non-Emergency:
602-366-5268
Anonymous Tips:
602-489-5300 x810