Chapel
Encounter God
Arizona Christian University gathers for Chapel every Tuesday and Thursday from 10:15 am to 11:15 am during the Fall and Spring semesters (except during holidays or breaks). The purpose of Chapel is to gather for worship, fellowship, personal development and spiritual formation. Therefore, chapel is considered a vital part of a student's academic and spiritual experience at ACU. Speakers include pastors, youth pastors, missionaries, faculty members, Christian leaders, and students. Its purpose is to bring us closer to our primary goal of loving God. All students must attend a minimum of 22 chapels per semester.
Changes to Chapel
Over the last semester, we have experienced significant technological and administrative issues with the Populi Beacon when taking attendance at Chapel. Additionally, we have recognized that ending Chapel at 11:15 a.m. has put strain on many students' ability to grab lunch before an 11:30 a.m. class on Tuesdays/Thursdays.
In order to better serve all students, the University will begin making the following changes, beginning with the first chapel of the spring semester on Thursday, January 9, 2020.
Time Change – Chapel will run from 10:00 – 11:00 a.m. instead of 10:15 – 11:15 a.m. This change will allow students more time to each lunch before an 11:30 a.m. class.
Student IDs – ACU will begin issuing and scanning physical Student IDs at the beginning of each Chapel to better monitor attendance. Scanning will promptly begin at 9:50 a.m. and end at 10:15 a.m. Students can only scan-in during that time frame to earn credit for Chapel.
With these changes, all ACU students are required to obtain a new physical Student ID from the Campus Safety office. To assist with this process, Campus Safety has already begun pre-printing Student IDs for students that have a photo on file. Students must have a photo on file before their Student ID can be printed. Students can obtain this physical Student ID any time between 1:00 – 5:00 pm Monday through Friday, starting Monday, November 18, 2019.
In order to obtain the new physical Student ID, all students are required to present a government issued photo ID to verify their identity. Acceptable forms of ID include a government issued passport, driver's license, or standard ID. The new physical Student ID is provided free of charge.
Thank you for your assistance in providing feedback and obtaining your new physical Student ID. Below you will find some FAQs related to this process.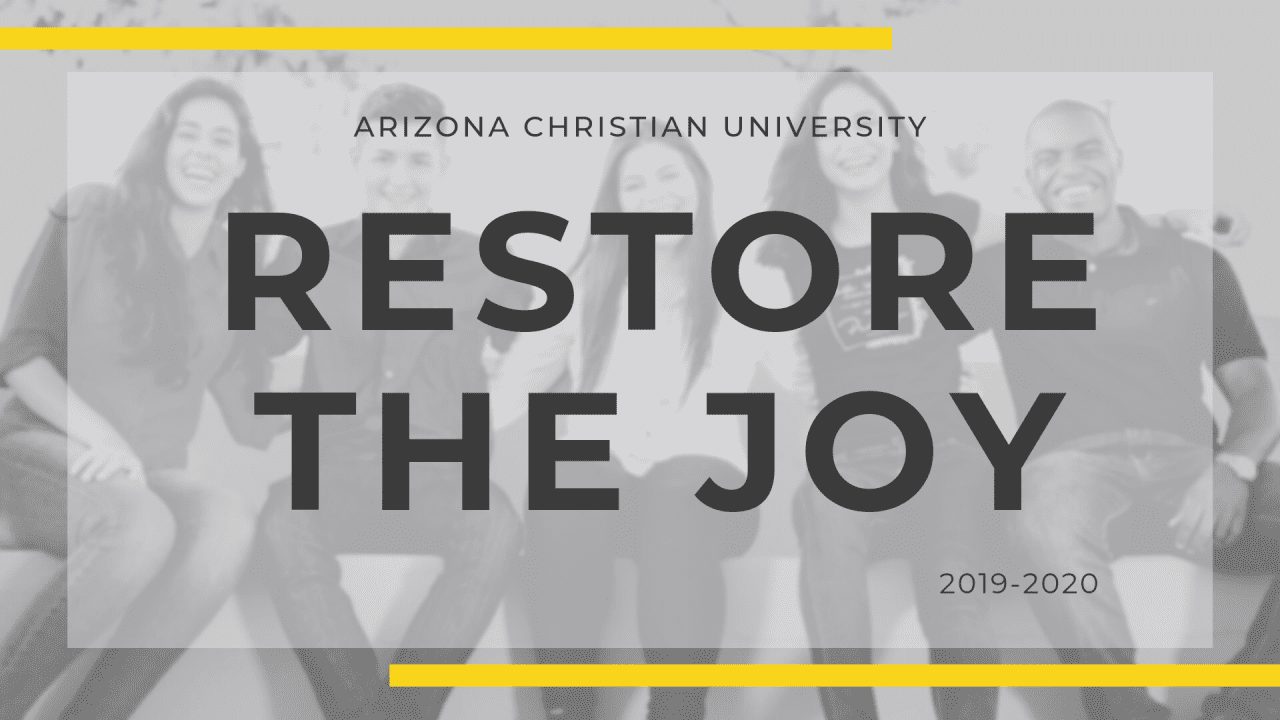 Live stream
Chapel may be viewed via Live Stream every Tuesday and Thursday from 10:15 – 11:15 am by clicking on the button below.
Restore the Joy
Every year we select a theme for chapel, which is a central idea or passage of scripture to dive into together as a community. 2019-2020's chapel theme is Restore the Joy from Psalm 51:12 that says, "Restore to me the joy of your salvation and grant me a willing spirit, to sustain me."
Want to be in one of our student-led worship bands? Click HERE
Have a question? Email [email protected]
Office of Student Life
Arizona Christian University
1 W. Firestorm Way
Glendale, AZ 85306
  Phone:
(602) 489-5300