OFFICE OF THE PRESIDENT
Personal Note from the President:
I never planned or expected to be President of a University. Serving in this role was not my idea. But God often calls us to unexpected places in His timing for His purposes. During the past nine years, through many challenges, my faith has been strengthened as I have seen God's favor on and provision for this unique Christian academic community. By God's grace — and through the faith, passion and diligence of our faculty and staff — we find ourselves on this beautiful new campus, recognized as a "Best College" and the No. 1-ranked University in Arizona. Here, in our historic new home in Glendale, we will have with the ability to equip and educate more and more students whose personal transformation at ACU will fuel their ability to transform culture with biblical truth as Kingdom-minded Christian leaders of excellence and influence. God's plans are always better than our ideas.
Transforming Culture with Truth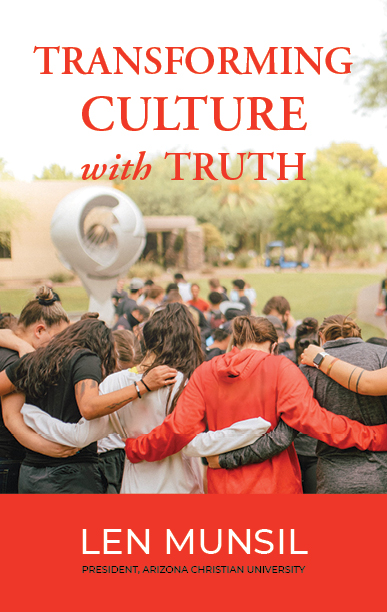 In Transforming Culture with Truth, Arizona Christian University President Len Munsil explains how the principles and values that built Western Civilization are under assault, and how a decaying and divided culture can be transformed through biblical truth. In this second edition, Munsil applies his incisive analysis to the most pressing cultural issues we face as a nation, and offers both hope and practical wisdom to the next generation of Christian leaders as they seek to advance God's Kingdom in an increasingly hostile culture.
"Many see problems that arise from a system of education that has forgotten God and rejects the very concept of truth. Only some propose solutions. But precious few do anything about it. Len Munsil is one of the very few who understands the problems and who is engaged in an effective, biblical response at Arizona Christian University. His book Transforming Culture with Truth gives you an excellent path to help guide your family, your church and your community in the pursuit of truth that will change lives and our culture."
– Michael P. Farris, President and CEO, Alliance Defending Freedom