Arizona Christian University mourns the passing on Jan. 2, 2021 of basketball legend and beloved ACU Trustee Paul Westphal.
"Paul Westphal lived an amazing life," said ACU President Len Munsil. "The outpouring of love and tributes from so many people whose lives he touched is a testimony to his character, his love for people, and his love for God. While we grieve, we know that Paul is alive today, united with family and friends, because of his faith in Jesus Christ.
"At the same time, we are absolutely heartbroken for Cindy and the family, and for the multitudes who knew and loved him including so many students, staff, faculty, administration and fellow trustees here at ACU."
Paul Westphal's involvement with the University spanned 35 years, beginning with his first head coaching job in 1985 after retiring following a Naismith Basketball Hall of Fame playing career with the Suns, Sonics, Knicks and Celtics.
"When Paul Westphal came to what was then Southwestern College, it really put the school on the map for the first time," Munsil said. "He was only 34 years old, but he was a household name for sports fans all over America, and one of the biggest celebrities in Arizona.
"His humility in taking a volunteer coaching job, then using his fame, connections and often his own resources to take a small Bible college team from 3-20 the previous year to a 21-9 season and a conference championship – demonstrated a creativity and commitment to excellence that launched his coaching career," Munsil said. "More importantly, he changed the lives of so many of those students – and not just the members of the basketball team."
Westphal went on to lead Grand Canyon University to an NAIA national championship, then became the winningest head coach in Phoenix Suns history. He also coached the Seattle Supersonics, Sacramento Kings and NCAA Div. 1 Pepperdine on his way to the Hall of Fame.
Westphal re-engaged with Arizona Christian University after Munsil became President in 2010, attending ACU events along with his wife Cindy and becoming generous supporters of the school. In 2012, the Westphals agreed to let ACU use Paul's name and likeness to create an athletics booster club – the Westphal Athletic Fund. Each year Paul would participate in and speak at ACU's Westphal Fund golf tournament and Westphal Athletic Awards Ceremony.
In 2015, he delivered ACU's Commencement address, telling the story of missionary Tim Fultz, a member of that 1985-86 team who improbably became the hero of the conference championship game. Fultz lost his life in an accident while building a church on the mission field in Zaire. Paul and Cindy were regulars at ACU basketball games, especially the annual Tim Fultz classic, where Paul joined Tim's father, Pastor Larry Fultz, to share Tim's story and faith with new generations of ACU students and fans.
Paul also traveled with Pres. Munsil to see ACU compete in the national NAIA tournament in Kansas City – the same tournament Paul's GCU team won in 1988.
In 2017 until his death, Westphal served as a member of the ACU Board of Trustees, voting to approve ACU's move to its new campus in Glendale.
"When we visited the Glendale campus for a board meeting while secretly negotiating with ASU, after taking a tour of the facilities Paul pulled me aside and almost grabbed me by the lapels of my suit, saying, "Whatever it takes, you need to get this done!" Munsil recalled. "He was so excited about what this new campus meant for the growth of ACU's biblical, conservative mission, and once we made the move he regularly joined fellow Trustee Andrew Unkefer and gave dozens of tours of the new campus."
The loss will be felt deeply in the ACU community.
"Paul made everyone around him feel special," Munsil said. "The impact he had on our entire student body in 1985-86 was profound; he and Cindy stayed in touch and continued to nurture those relationships for decades. He was the most down-to-earth famous person you could ever meet, and that enabled him to connect with everyone. I know that was rooted in the humility he found through his faith in Christ."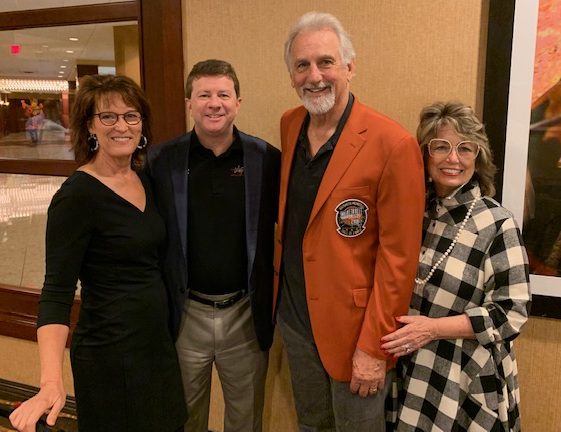 "He was my childhood sports hero, so it was beyond belief for me, and an incredible honor for Tracy and me, to be invited to attend his Hall of Fame induction ceremonies in 2019 in Springfield, Massachusetts. I will miss him greatly."
Later this year, Arizona Christian University Press will be publishing a book by Paul Westphal with stories from his life in basketball. More details on this upcoming book will be provided soon.