AN INNOVATIVE COLLABORATION TO EQUIP STUDENTS TO SAVE TIME AND MONEY
Earn two degrees from two leading institutions in five years, rather than the six years it typically takes to complete the same two degrees

B.A. in Biblical and Theological Studies from Arizona Christian University (ACU)

M.A. from Dallas Theological Seminary (DTS)

Attend ACU courses online or on campus

Attend DTS courses online or at DTS's teaching site on ACU's campus
How it works
Year 1-3:
Year 4:

Take dual credit courses from DTS
Graduate from ACU with a B.A. in Biblical and Theological Studies!
Year 5-6:

Complete the remaining 60 hours at DTS
Graduate from DTS (with a degree offered below)!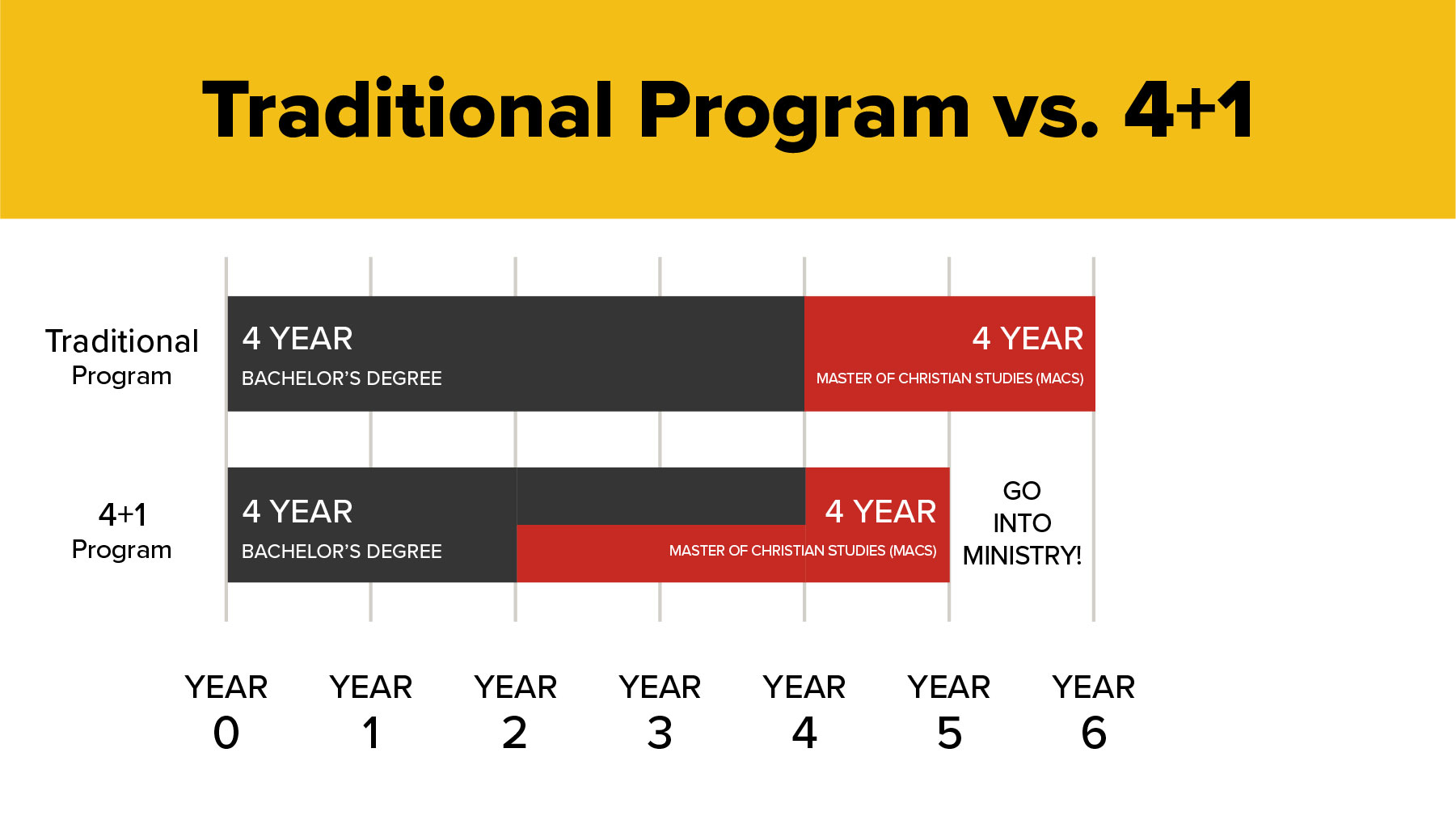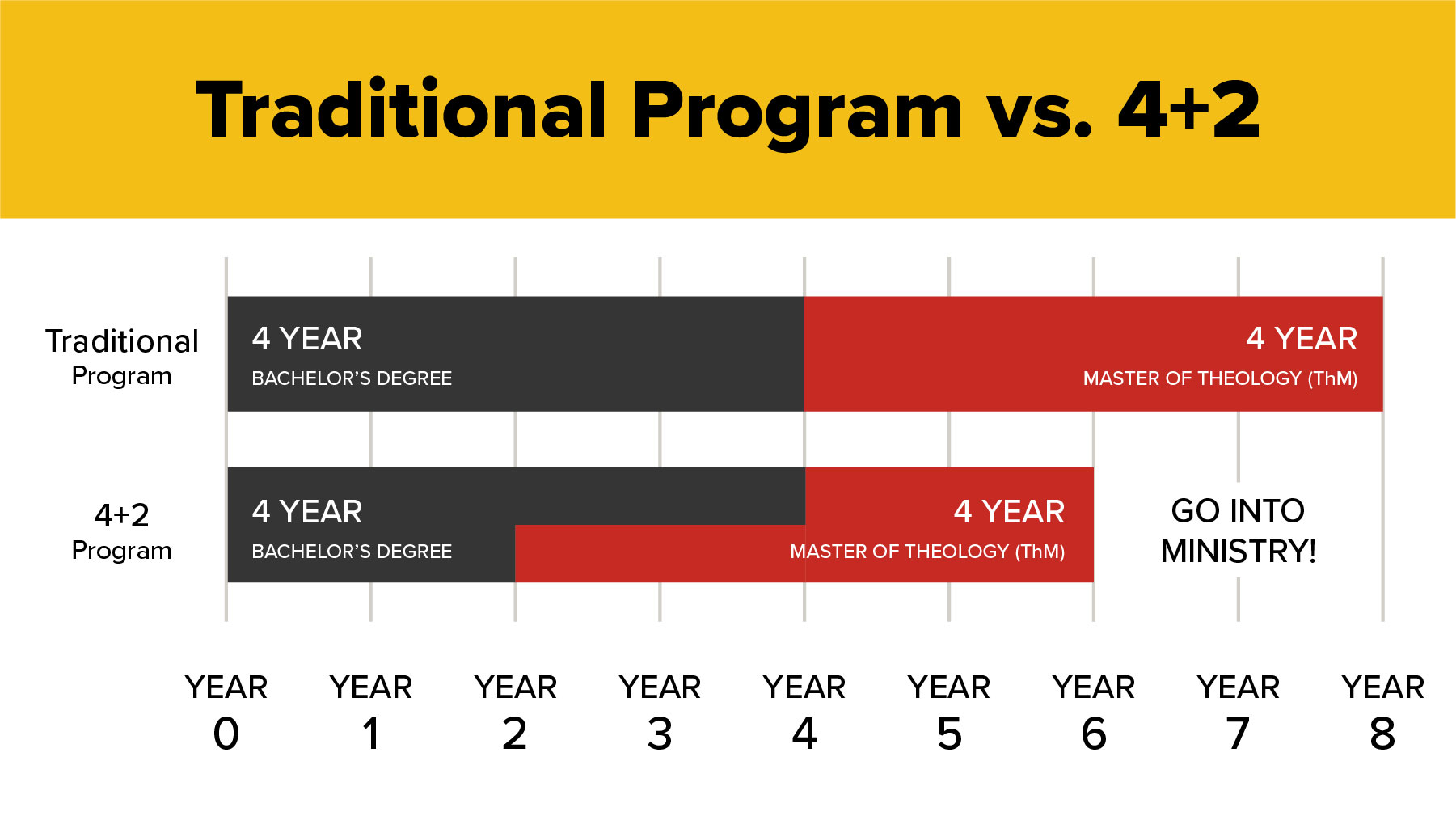 Degrees Offered by DTS in this Program
| Degree | Hours | 4+1 | 4+2 |
| --- | --- | --- | --- |
| Master of Theology (ThM)* | 120 | | ✓ |
| MA in Biblical Counseling (MABC)* | 90 | | ✓ |
| MA in Chaplaincy and Ministry Care (MACP) | 79 | | ✓ |
| MA in Apologetics and Evangelism (MAAE) | 69 | ✓ | |
| MA in Christian Leadership (MACL) | 66 | ✓ | |
| MA in Media Arts and Worship (MAMW) | 66 | ✓ | |
| MA in Christian Education (MACE) | 66 | ✓ | |
| MA in Cross-cultural Ministry (MACM) | 64 | ✓ | |
| MA in Christian Studies (MACS) | 62 | ✓ | |
Sample degree plans
---
---
---
---
Frequently Asked Questions
What ACU major do students need to be for the 4+1?
The Bachelor of Arts in Biblical and Theological Studies.
What ACU major do students need to be for the 4+2?
The Bachelor of Arts in Biblical and Theological Studies.
How do students fulfill the Spiritual Formation requirements?
Students will do SF5110 Mentored SF in their final year at ACU. The application deadline for Fall SF5110 applications.
What grades do I need to earn in my classes?
Maintain a B or higher in your ACU courses that will count towards DTS advanced standing. Make an appointment with your ACU advisor about which courses apply to the 4+1 or 4+2 program.
Can you apply with more than 90 credit hours?
Yes, but you must be a current student at ACU.
If I'm accepted to ACU, am I automatically accepted to DTS?
When should I apply to DTS for the 4+2?
You should apply to DTS during the semester when you are going to complete 90 hours, usually the spring of your Junior year. Please send in a transcript for the work you have completed (e.g., 75 hours) with your admissions application. Please note: you will need to send DTS an updated transcript with 90 or more completed hours before you begin your classes at DTS, and again when you have graduated from ACU.
I graduated from [ACU/CBS] am I still eligible for the 4+1 or 4+2?
Eligibility for the 4+1 and 4+2 programs are limited to current ACU/CBS students. However, ACU/CBS graduates may sign up for course-by-course advanced standing. You can potentially earn 22 credit hours for an MA degree or up to 40 credit hours for the ThM. 
Which MA degrees are part of the 4+1 programs?
All MAs with the exceptions of MACP and MABC due to Practicum requirements. These two degrees are not formally part of the partnership but could be done in two-additional years if students relocate to Dallas and attend full-time.
DO ThM STUDENTS NEED TO DO TWO AGAPE PROJECTS?
Yes, this is required by all ThM students. Students will need to begin working on these their first semester at DTS and are advised to do one in NT5105 Exegesis of Romans and BC5101 Pastoral Counseling and Ethics prior to their internship. Find more information about Agape Projects here.
WHICH ThM CONCENTRATIONS ARE AVAILABLE TO PURSUE IN THIS PARTNERSHIP?
Students can pursue any ThM concentration at DTS. However, certain concentrations may push students beyond the 120-hours in the ThM due to 9 hours of advanced standing credit.