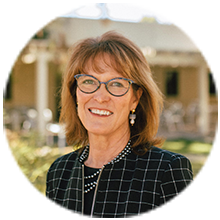 Tracy Munsil, Ph.D.
Associate Professor, Department of Political Science and Government
Executive Director of the Cultural Research Center
Dr. Tracy Munsil is the Executive Director of the Cultural Research Center and is also Associate Professor of Political Science at Arizona Christian University. Dr. Munsil chaired the collaborative process to develop the ACU CORE liberal arts curriculum and teaches political science and Humanities courses at ACU. She was appointed by Arizona Gov. Doug Ducey to the Commission on Appellate Court Appointments and serves on the Board of Directors for Voices for the Voiceless, a next-generation prolife organization based in Phoenix. Dr. Munsil was a full-time lecturer in the Arizona State University School of Politics and Global Studies. Her doctorate was her third degree from ASU, after earning both a political science master's and a bachelor's degree in journalism. At ASU she met her husband, ACU President Len Munsil. Dr. Munsil home-educated their eight children for 14 years.