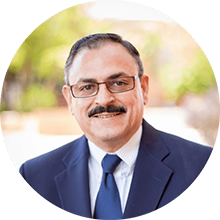 Edward A. Clavell, D.Min.
Dean of Academic Affairs
Interim Head of the School of Business Administration
Degrees and Experience
D.Min. Biblical Studies and Leadership (Phoenix Seminary)
M.Div. Leadership (Phoenix Seminary)
B.B.A. (Baruch College)
Biography and Professional Achievements
Dr. Clavell has served at Arizona Christian University since 2008 he has taught Leadership, Business and Biblical Studies.
Dr. Clavell began his professional career as a metal craftsman and entrepreneur in New York City. Upon moving to Arizona, Dr. Clavell continued his entrepreneurial ventures, as owner-operator of Jessco Industries and production manager of Heritage Metalworks, along the way he transitioned into church ministry and academics. His ministry experiences include Children's Pastor, Church Plant Pastor, and Executive Pastor.
Dr. Clavell has served as Dean of Students at Phoenix Seminary, Director of Escuela de Esperanza, adjunct professor at Southwestern/ACU and interim Chair of Biblical Studies Department at Arizona Christian University. He is a member of the National Association of Church Business Administrators and the Christian Business Faculty Association.
In 2011, Dr. Clavell founded Pilgrimage Consulting, coming alongside; Pastors, Business Leaders and Organizational Leaders to develop strategies and systems needed, to reach the vision God has given these leaders and their organizations to grow His [God's] Kingdom.
Dr. Clavell and his wife Sandra live in Chandler, Arizona. They have been married for over 40 years. They have two married adult sons Shawn, wife Sarah, and Justin, wife Desi.
Dr. Clavell is a fan of the game of baseball, with his favorite teams being the Arizona Diamondbacks and NY Mets. In addition, he enjoys music, cooking, reading, and spending as much time as he can with his family.
Service
Higher Learning Commission Peer Reviewer: August 2019 – Present
Dean of Academic Affairs Arizona Christian University, Phoenix AZ: January 2016 – Present
Director of Assessment Arizona Christian University, Phoenix AZ: August 2016 – Present
Chair, Academic Assessment Committee, Arizona Christian University, Phoenix AZ: January 2014 – 2018
Associate Professor and Chairman of Business Administration Department, Arizona Christian University, Phoenix AZ: July 2013 – December 2016
Interim Chairman of Biblical Studies Department, Arizona Christian University, Phoenix AZ: January 2013 – May 2013
Adjunct Instructor Bible Department, Arizona Christian University, Phoenix, AZ: Fall 2011 – Spring 2013
Adjunct Instructor Business Department, Arizona Christian University, Phoenix, AZ: Fall 2007 – Spring 2013
Director Escuela de Esperanza, Phoenix Seminary, Phoenix AZ: August 2008 – June 2009
Dean of Students, Phoenix Seminary – Phoenix, AZ: 2005-2008
Publications and Presentations
"Why Are Spanish Churches Offering English Services" Connection Magazine, March 2013
"The Future of Latino Ministries" Connection Magazine, July 2012
"Keeping Records Is Important" Connection Magazine, June 2012
"Ideas Have Consequences" Connection Magazine, January 2012
"NONE" Fastest Growing Religious Identification Among Latinos Connection Magazine, October 2011
Human Flourishing: Toward a Theology of Work and Rest, by Danielle Sallade;The Journal of Biblical Integration in Business
Guest Lecturer for Dr. Steve Tracy, "Is the immigration of Latinos to the United States a blessing we are failing to acknowledge?" Contemporary Moral Issues Class, Phoenix Seminary Fall 2015
Special speaker, Cross-cultural and Diversity Competency Class, "Organizational Strategies to Minister Cross-Culturally." Phoenix Seminary, February 2014
Workshop Speaker "Iron Sharpens Iron," "The blending of Jesus, Latinos, and the American Dream." Phoenix Conference November 2013
Guest Lecturer, "The Latino perspective of United States Immigration Laws." Phoenix Seminary Fall 2012
Guest Lecturer for Dr. Malcolm Hartnell, Cross-cultural and Diversity Competency Class, "Understanding the Distinctive Challenges of Ministering to the Latino Community." Phoenix Seminary, February 20, 2012
Southwest Conservative Baptist Association Annual Growth Conference, "The Multi-Ethnic Jesus Community" Trinity Baptist Church, Mesa AZ, February 4, 2012
Free Grace Alliance (National Meeting),"Grace is Seeking a Door into the Latino Community." Phoenix, Arizona – Fall 2011
Free Grace Alliance (National Meeting), "Resetting the Margins: Getting the Gospel Out to the Latino Community." Irving, Texas – Fall 2010
Southwest Conservative Baptist Association – Latinos Men's Retreat – Prescott Pines, "Hombres en Guerra: La Llamada, El Entrenamiento y Entrando la Batalla." Prescott, AZ – Summer 2010