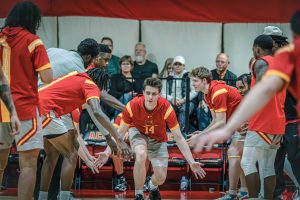 The ACU Men's Basketball Team finished a highly successful season, winning the GSAC Athletic Conference Championship and advancing to the Elite Eight in the NAIA Men's Basketball Championships in Kansas City, MO.
Guard/Forward Paul Hayden was selected as a 2022-23 NAIA Third Team Men's Basketball All-American. Senior Forward Bryce Davis was also given an Honorable Mention nod as announced by the NAIA national office on Thursday.  For Hayden his third team selection follows an All-GSAC award this season.
Hayden, from Phoenix, AZ, the guard/forward led the team in total points scored with 396, was second in scoring averaging 12.4 points, 3.6 rebounds, and 1.3 steals per game on the season. Hayden scored 20 plus points in five games and led ACU in scoring 11 times. During conference play Hayden upped his numbers to 14.4 points and 4.4 rebounds while shooting 53% from the field 48% from three-point range.
Davis, from Glendale, AZ, gave the Firestorm life and had a career year. Davis averaged a career high in points and rebounds with 11.8 points and 5.3 rebounds per game while shooting 50% from the field. He led ACU in both free-throws made and attempted.
Davis elevated his level of play during the NAIA National tournament games for ACU averaging 13.7 in the last three games while shooting 60% from the field. Davis also received his first All-GSAC selection for the Firestorm.
Hayden and Davis led the Firestorm to their second quarterfinal appearance in the NAIA National Championships.
Head Coach Jeff Rutter commented, "Paul and Bryce both had outstanding seasons.  We were very balanced this year and had multiple guys deserving of post season honors.  We had several injuries and several different lineups.  Paul and Bryce had a steadying influence on the team and helped us be successful despite some of the chaos.  Both were guys that received a lot of defensive attention and game planning and both played their best in big games."
The Firestorm concluded the 2022-23 season with a record of 27-6 and the honor of hosting their first Opening Rounds of the NAIA National Championship.  ACU made their ninth NAIA National Tournament appearance in the last eleven years.  Their 3-1 run to cap the year boosted their NAIA postseason record to 11-8 all-time.
Congratulations, Paul Hayden, on your NAIA All-American selection and Bryce Davis on your Honorable Mention recognition.