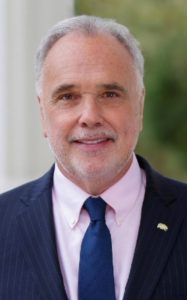 Arizona Christian University is honored to announce Sen. Mike Morrell as a new member of its Board of Trustees. Sen. Morrell was formally elected for an initial three-year term at the November 2021 meeting and will serve as chair of the Advancement Committee beginning this fall.
Sen. Morrell was born and raised in California. He and his wife, Joanie, have three adult children. For more than 25 years, Sen. Morrell was a small business owner, opening two corporations in the Inland Empire, Provident Home Loans and Provident Realty, both of which incorporated in 1989.
Sen. Morrell was first elected to the California Assembly in 2010, representing the 63rd Assembly District. He has represented California's 23rd State Senate District since 2014. Over the course of his time in the legislature, he has served on a number of policy committees, including housing, labor, public safety, and several others.
He has been recognized as Legislator of the Year by groups such as the California Young Republican Federation and as a champion of business by the National Federation of Independent Business (NFIB). He regularly receives "A" grades from business groups including the California Chamber of Commerce and the Howard Jarvis Taxpayers Association. Additionally, Sen. Morrell holds the highest lifetime vote rating in the legislature from the American Conservative Union.
Outside of politics, Sen. Morrell co-founded the Inland Empire Prayer Breakfast, serves on the advisory board of the Pacific Justice Institute, and previously chaired the parents' board at Hillsdale College.
A cornerstone of Sen. Morrell's time in office has been his defense of life and strong commitment to protecting religious liberty. He is a vocal defender of life from conception to natural death.
"Mike's lifelong dedication to engaging our culture with biblical values make him an ideal Trustee for Arizona Christian University," said ACU President Len Munsil. "His alignment with ACU's conservative Christian mission and our Core Commitments as well as his experience in the legislative and policy arenas, are tremendous assets to the University, and we are grateful for his willingness to serve."
Arizona Christian University is an accredited, private, non-profit, Christian university in Glendale, Arizona offering a wide variety of degrees preparing students for successful careers, while remaining committed to its vision of transforming culture with biblical truth. Students actively engage in biblically integrated academics and gain a liberal arts foundation with critical thinking skills that last a lifetime. Spiritual development is also integrated within the University experience, where all four-year campus students receive a minor in Biblical Studies, attend chapel twice a week, and complete spiritual formation and service hours each semester.