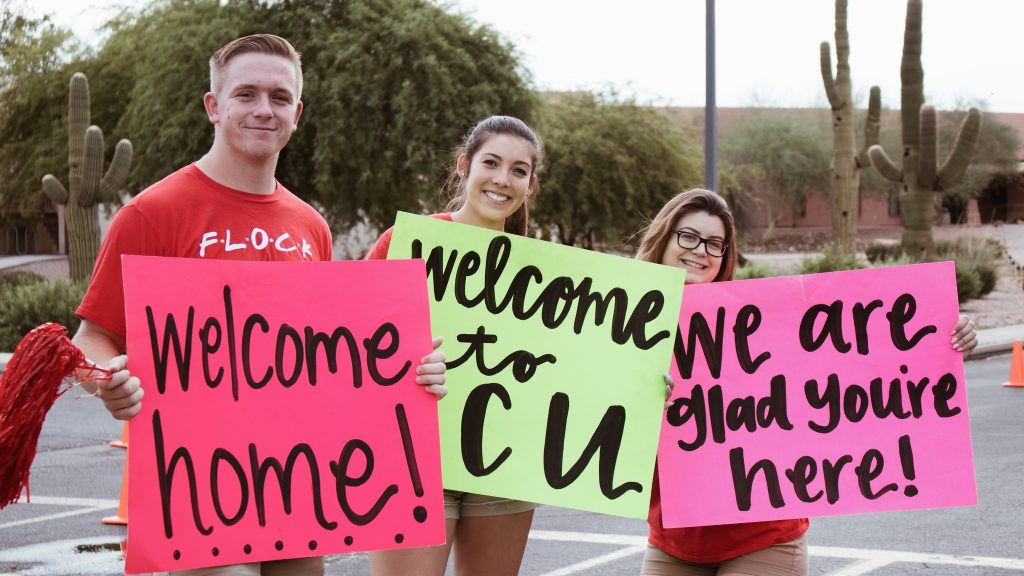 The summer is generally a quiet time for ACU student athletes, as most enjoy a time of rest before resuming their training for the upcoming fall competition season.
Arizona Christian University's Glendale campus is springing to life this week as classes resume for the fall semester. We are rejoicing in our seventh straight year of record enrollment – topping 900 traditional campus students for the first time, with a record of 560 students living on campus – and a second straight year with total enrollment well above 1,000 students.
Even more significantly, ACU continues to expand its national and international reach, welcoming students from 44 states and 30 different countries to its mission to educate Christian leaders who will transform culture with biblical truth.
Move-in day has become a valued tradition, as faculty, staff, and student leaders meet parents and incoming students when they first drive on campus, walk them through the process of getting registered and cleared for classes, and then escort them to their residence halls and help carry suitcases and boxes into the dorms. 
Another highlight of Move-in day is an afternoon orientation session for parents. During this session university leadership and representatives from Campus Security, Residence Life, Athletics, Academics, and Enrollment provide insight on ACU's philosophies and practices for student development and discipleship.
Orientation Week also offers incoming students several opportunities to ask questions, get involved, build friendships, and get the most out of their college experience.
The inspiration for ACU's recent steady growth is multifaceted. The enhanced facilities on our Glendale campus, including the acquisition of the Firestorm Recreation Center last year, certainly play a role. 
"But that's just a small part of the story," noted ACU Vice President of Enrollment, Jeff Rutter. "ACU is rooted in a culturally and theologically conservative approach to higher education. Students and parents are attracted to a Christian university that is willing to be clear and stand strong in its faith commitments. In addition, our size is perfect for students who value a rich sense of Christian community. At ACU, nobody gets lost in a crowd." 
This academic year, as a record number of students come together to live, learn, and be discipled, the legacy of faithful servants who are part of the 62-year history of this institution continues to grow.